Service Agreements - "The Smart Choice"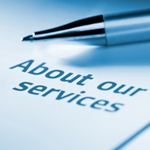 Heating and cooling systems have a way of breaking down when the weather is at its worst; on the coldest day of a frigid winter, or during a sizzling summer heat wave; times when your comfort system must work the hardest, and when you need it most.
Regular check-ups will help to maximize the life expectancy of your system; unfortunately, even the best maintenance won't prevent normal wear and tear.
Services to be Performed:
Provide 2 check-ups a year and provide emergency service
Check gas and refrigeration pressures
Check amp draw on components
Tighten electrical connections.
Wash coils as needed
Put algae tablets in pan
Check AC, heat pump, emergency heat, defrost, and furnace
Change or wash air filters
Terms and Conditions:
Parker and Son HVAC, LLC will not be held liable for damage caused by condensation. Ductwork and unit change out not covered under this contract. Emergency calls will not be charged a travel fee only parts and refrigerant will be billed at flat rate minus 20% anytime a repair is made. We will try to call to set up maintenances but, it's the owner's responsibility to schedule appointments. A $50 trip charge will be billed to a customer when we can't gain access to the property and equipment location when an appointment is scheduled. Customers that have rental properties be sure to set up a yearly key release with your rental agency.